By Zhong Shan
Where China's economy will be heading has come down to a major question: 'When will the Chinese government ditch its Zero-COVID Policy?'  It may also determine what happens to a series of digital totalitarian policies that have been triggered by Zero-COVID.
The answer to the first question rests with one man — the country's top leader, Xi Jinping. His word has become all the more sacrosanct since he secured a precedent-defying third term at the Communist Party's 20th Congress late last month. It was an event which saw him stack the leadership with his own loyalists, set an agenda that imposes digital totalitarianism in the name of epidemic prevention, and pushes overall social control to even more extreme levels. The Chinese authorities use the latest computer technology and artificial intelligence to create a new type of cyber authoritarianism. Their main aim is to fully monitor people.
According to a November 10 official news release, the National Health Commission, the National Administration of Traditional Chinese Medicine, and the National Bureau of Disease Control and Prevention recently have issued their "14th Five-Year Plan for National Health Informatization". Under the plan, by 2025, a national health information platform will be built with each resident having a dynamically managed electronic health record and a fully functional electronic health code.
The proposal sounds anodyne, but it places enormous power over personal information in unaccountable hands and the truth is often contrary to official propaganda. Consider how the Chinese health authorities have used such information. Lockdowns in the name of epidemic prevention have resulted in countless deaths without access to treatment. One of the saddest: a 3-year-old boy in Lanzhou, Gansu Province, died after being prevented from seeking medical treatment due to epidemic prevention and control.
Xi Jinping's second term in office has already begun actively deploying these types of digital totalitarianism. Per official documents, an action plan for developing ultra-high-definition video during 2019 to 2022 set as its goal improving "monitoring range, recognition efficiency and accuracy" and creating a batch of "intelligent ultra-high-definition security monitoring application pilots". It reflects a Chinese government hell-bent on fully monitoring its citizens. Traditional human surveillance is old-fashioned. The latest digital technologies and artificial intelligence make possible a new style of digital totalitarianism.
Part II: From Violations of Freedom of Speech to Violations of Freedom of Movement
The high-tech enterprise cases mentioned below only reveal a small part of the specific means of digital totalitarianism with Chinese characteristics. According to Chinese media reports, Ali's "Health Code", Tencent's WeChat "Health Code", and the cloud data of "Guizhou-Cloud big data" (group), the CPC's monitoring system already cover more than 1 billion people in China.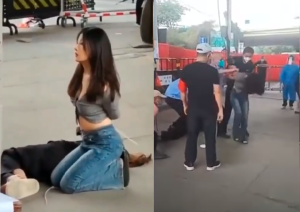 Female college student tied and fined to kneel for not wearing a mask(Haizhu District, Guangzhou)
In the Xinjiang region, people who are imprisoned on the verge of death are tested for nucleic acid rather than rescued. From their communities to their workplaces and in nearly all public areas, people are required to show a green code representing their health status in order to enter or exit. The "health code" is a must-have for people to travel. For three years, in the name of stopping the COVID epidemic, the "Health Code" has become the electronic passport of Chinese people.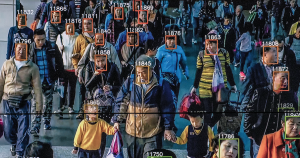 Beijing-based artificial intelligence company Megvii Technology is using facial recognition system software. (Gilles Sabrie for The New York Times).
In addition to electronic passports, multiple video surveillance systems also leave people with nowhere to escape. For example, Megvii Technology is preparing to go global with its facial recognition systems after seeing tremendous success on the mainland. The company was able to train its algorithms by using China's vast pool of personal data from clients like Ant Financial (Alibaba's payment affiliate), Vivo (smartphones), Didi Chuxing (ride-sharing). Megvii was funded by Bank of China, the State-Owned Venture Capital Fund, China-Russian Investment Fund, and other private investors including Ant Financial
The only thing standing in its way are objections and roadblocks put up by outsiders. On October 8, 2019, the U.S. Department of Commerce added Megvii Technology and 28 other Chinese entities to the U.S. Export Control Regulations entity list, citing human rights issues of Muslims in Xinjiang. As a result, the following year its company's application to list on the Hong Kong stock market failed.
The Chinese government uses the latest digital technology to monitor society on a large scale, all the time claiming that it is meant to combat terrorism and crime and to improve public safety. However, at certain public events, the video was often "lost". In the case of alleged trafficking of children and women, the public often finds that these powerful video surveillance systems almost never work. The recently reported abducted "female prisoner in iron chains" in Feng County, Xuzhou City, Jiangsu Province is just one of the millions of people smuggled. For most, there is no video evidence.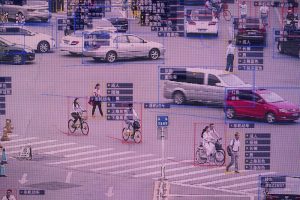 SenseTime surveillance software identifying details about people and vehicles during a demonstration at the company's office in Beijing, China. The description next to the woman reads: Adult, long sleeves, long pants, navy blue top, gray bottom. (Picture: Reuters)
SenseTime is the highest-ranked AI company in Asia by revenue, generating RMB 4.5 billion or $692 million over the latest 12-month period. It develops technologies including facial recognition, image recognition, object detection, optical character recognition, medical image analysis, video analysis, autonomous driving, and remote sensing. The company is public. After listing on the Hong Kong Stock Exchange in December 2021, it has a market capitalization of $7.8 billion today and its strategic partners include Qualcomm, Huawei, Xiaomi Technology, and Honda Motor.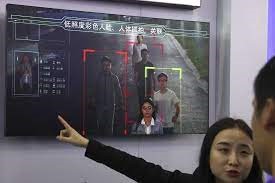 Hikvision shows its recognition effect in low-light environment at night (from South China Morning Post)
Hangzhou Hikvision Digital Technology Co. is one of the world's largest suppliers of video surveillance cameras, with sales north of $13 billion per year. It was also one of several Chinese technology companies added to the U.S. government's economic sanctions entity list in 2019, effectively barring the company from buying U.S. components without the government's approval. The U.S. authorities cited Hikvision's role in enabling human rights abuses in Xinjiang as a main reason for banning such transactions with the company. As a listed company in the Chinese stock market worth $41.7 billion today, its main controlling party is the central enterprise China Electronics Technology Group, which is a typical Chinese state capital holding company.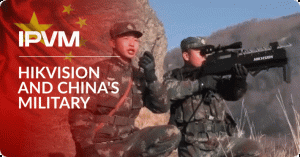 IPVM, a US based video surveillance research authority, and, subsequently, the Wall Street Journal reported that Hikvision is a supplier to the Chinese military. IPVM revealed that the world's largest surveillance equipment maker has long-term links to the country's military, including conducting a joint study with commanders and weapons experts and selling cameras and drones to the Chinese air force. The Wall Street Journal stated that Hikvision previously posted a report on its website detailing how its technology could improve the performance of Chinese weapons, including missile and tank systems. The report further described cameras produced by the company being used to record drills and improve weapons accuracy. The company subsequently removed the references from its website after it was contacted for comment, the outlet stated. Although Hikvision was banned, sanctioned, and declared a national security threat under the National Defense Authorization Act, the company's subsidiary Hikvision USA still managed to exhibit at the Global Security Exchange Conference, GSX 202, in September 2022 in Atlanta. Event organizer ASIS International refused to comment.
These situations arise just as netizens have begun to ask why surveillance video is collected in the name of public security without actually being used to improve public safety. The Chinese government is actively adopting the latest technology in the field of public security. There are not only public security considerations, but also the consideration of monitoring "key populations". The so-called key population, according to the documents of the public security department, refers to "those who are suspected of endangering national security or social security and are subject to key management by the public security organs."
Successive U.S. administrations have noted that Beijing relies heavily on companies like Hikvision, as well as Dahua, Huawei, SenseTime, and others, to provide the surveillance technology used to monitor many of the detention camps in Xinjiang and the entire Chinese region. To citie one example, Ovalbek Turdakun was a prisoner in one of China's notorious Xinjiang internment camps, for 10 months in 2018. In horrific conditions, he was under constant surveillance while being tortured. Speaking with TechCrunch, Turdakun described the cells where he was held with two dozen other prisoners for months at a time. The cameras were all branded with Hikvision logos. They were "always on and watching," he said. If the cameras saw anyone speak, a booming voice would tell them not to talk. He described how the detainees would spend hours in silence, enforced by the cameras, and how they could have little human contact outside their cells. Often the door would stay shut for long time spans and food would be pushed through a slot. Even to move just a few feet to use the hole-shaped toilet that he described, he would need to raise his hand and ask for permission – "because of the cameras watching, always," he said. Turdakun was finally released in November 2018 on terms akin to house arrest, where he would be monitored around the clock by a GPS tracker on his wrist that could only be unlocked with a special key. Although he was allowed to leave his house and travel around his small city, he described constant harassment from the authorities.
"The cameras would see me and send off alarms," he said, describing the use of facial recognition across his neighborhood. "The cameras are about [6 feet] in height — also Hikvision — and they're on every sidewalk," he said. "There are so many of them, they don't need to change the directions of the cameras. It doesn't matter how long the road is, even the shortest road will have cameras. The whole entire city has cameras watching."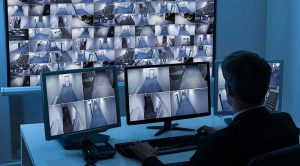 A prison project displayed on Dahua's distributor's website. Its iDMSS video management system software has the ability of artificial intelligence recognition.
According to a product news release from Dahua's Southern California office in April 2022, that company has already supplied camera equipment with military-grade thermal infrared imaging technology into the global market: "The thermal imager coupled with a thermalized, focus-free lens produces high contrast thermal images in total darkness and sees through rain, fog, and snow; the visible imager with an IR illuminator delivers superior video in any lighting condition."
The digital totalitarianism system widely used in Chinese prisons, detention centers, and Xinjiang's so-called "re-employment training centers" is now spreading across the country. With COVID used as an excuse, the system has extended into various prefecture-level cities and its roots are burrowing more deeply.
The first generation of digital fences began with restricting access to overseas websites – the ban on Google access was a major, symbolic event. The newer, second generation of digital fencing has been upgraded to encompass a much more insidious program of wiping out any information the CPC does not authorize.
Wang Qingpeng, a human rights lawyer from China, summarizes the illegality of the surveillance and blocking programs: "The Chinese government not only violates Article 37 of the Chinese Constitution on personal liberty. Citizens have the right to control their bodies and actions and have the right to communicate freely. Moreover, from the perspective of the United States, China, as a contracting party, also violates the United Nations' International Covenant on Civil and Political Rights, which involves the protection of personal freedom (Article 9) and the protection of freedom of speech (Article 19)." Ms. Wang has called for the expulsion of China from the United Nations.
China's traditional control methods combined with the latest technology may be unprecedented in human history. Their systems exceed the dreadfulness imagined by George Orwell in "1984" and the paranoid reality created by Stasi agents in the former East Germany. Using powerful state power and employing all the latest technologies available, China is entering a new era of totalitarian rule unprecedented in human history.
Part Three: America is Surrounded by China's Digital Wall With The Xi Jinping Regime Spying on Us
The author is a digital signal engineer in China and an engineering project manager in the field of network communication. The author once worked for a video surveillance service company in the United States. The author's work tasks include installation, upgrade, maintenance and upgrading of technical systems. According to the author's investigation, almost all the video security monitoring service industries in the United States are using equipment from China, such as Dahua Dahua and Hikvision. Even in the linkedin website's recruitment requirements for 'monitoring/security/alarm': Dahua and Hikvision are product knowledge candidates must have.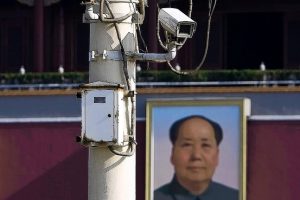 The picture shows a partial view of Tiananmen Square in Beijing
The U.S. security industry media advertising section is overwhelmed with video surveillance/security alarm equipment from China, and security equipment stores have been having a fire sale for low-end products made in China. Chinese-made products are cost-effective, with timely updates and many promotions. All of this makes it hard for U.S. buyers to say no.
What is inexplicably humorous is that the managers of some of the companies are run by American veterans. Their logos are American bald eagles and American flags, and even the names of some internal projects are named with the characteristics of American patriotism.
The more serious reality is that U.S. security systems are also increasingly using Chinese-made equipment, making it increasingly convenient for Chinese authorities to spy on the United States.
This statement is not without merit, China's National Intelligence Law, enacted on June 27, 2017, is a unique and disturbing milestone in strengthening its security legislation. 
The Intelligence Law repeatedly requires individuals, organizations, and institutions to assist police and security forces in broadening "intelligence" work. Article 7 stipulates that "any organization or citizen shall support, assist, and cooperate with national intelligence work in accordance with the law." Article 14 also empowers intelligence agencies to insist on this kind of compulsory support: "National intelligence work agencies carry out intelligence work in accordance with the law and may require relevant agencies, organizations, and citizens to provide necessary support, assistance, and cooperation."
So, this means that the Big Brother (from China) is watching you (George Orwell "1984")
Conclusion: The Holocaust must never happen again—-
In history, IBM, the creator of the "high-capacity ID card and massive population retrieval method" helped to make a shocking and infamous tragic story with the disastrous consequences from this technology: Eleven million Jews were persecuted, including six million murdered.
his book IBM and the Holocaust, Edwin Black details how IBM not only rented machines to Nazi Germany, but also provided ongoing maintenance services. His monumental research exposes how IBM and its subsidiaries helped create enabling technologies for the Nazis, step-by-step, from the identification and cataloging programs of the 1930s to the selections of the 1940s.
If the lessons from the past are not learned, it is inevitable that tragedies will repeat and become more disastrous, just as the Bible describes: "What has been, will be again, and what has been done will be done again; there is nothing new under the sun", Ecclesiastes 1:9. 
About the author Zu Wang  
The author is currently a communication network engineer working in the Silicon Valley Bay Area, and graduated from China's 985, 211 colleges and universities majoring in information electronics. As an "awakened engineer", he has long resisted China's Internet firewall and used his technical expertise to participate in China's democratic movement.
Ref: 
1.Zhenkuai Hong, In China, When the Digital Revolution Meets Totalitarianism, The New York Times (Chinese), May 8, 2019
https://cn.nytimes.com/opinion/20190508/digital-authoritarianism/
2.Keith Bradsher, China's Great 'Zero-Covid' Guessing Game, the New York Times, November 10, 2022
https://www.nytimes.com/2022/11/09/business/china-zero-covid-markets.html
Zack Whittaker

,

Always on and watching': A former Xinjiang prisoner describes life inside China's detention camps: The rare firsthand account will help investigate human rights abuses, TechCrunch, April 13,2022 
https://techcrunch.com/2022/04/13/xinjiang-prisoner-hikvision-china/