By JIANLI YANG
Discontent is brewing among both the employed and the jobless in China and the government is unable to mask it any longer. As the number of joblessness grows along with accompanying frustrations, the employed find it tougher to get accustomed to working because of stressful office and economic environments.
The urban unemployment rate in the country hovered around 5 percent in May 2021. It is considered adequate after it went up to 6.2 percent in February 2020 during the coronavirus pandemic. The issue hardly found mention in President Xi Jinping's address to the nation on the occasion of the centenary of the Chinese Communist Party two weeks ago.
If statistics are to be believed, the jobless rate is steadily coming down even if the fall is gradual. However, many of the hundreds upon thousands of fresh graduates continue to sit at home, looking for jobs. The rate of unemployment for the 16-24 age group is at 13.8 percent. Most of them do not possess skills needed in the manufacturing sector. The labor market for skilled workers looks skewed as well.
A mismatch exists in urban areas due to discrepancies in skills and jobs. Most graduates gravitate toward the services sector which in China is recovering at a slower rate due to the pandemic. In contrast, the manufacturing sector has a faster recovery rate, but is affected by lack of skilled workers.
Bloomberg interviewed Shaun Roache, chief economist for Asia Pacific at S&P Global Ratings, in late June: "Exports and investment, including in heavy industries and real estate, are driving the rebound but this demand does not create the type of jobs suited for many of today's graduates." Moreover, fresh graduates do not prefer the manufacturing sector because of lower wages and near absence of skills training on the shop floor.
China's statistics bureau conducted a survey of 90,000 companies this April which found that 44 percent of industrial companies counted recruitment of skilled workers as their biggest "obstacle." Imagine the chaos in the job market when the country is gearing up to absorb nearly 14 million new entrants into the urban job market this year. More than half of them, being graduates, may not find suitable jobs. The government has set a target to create 11 million urban jobs in 2021, but there is no data on what it has achieved so far.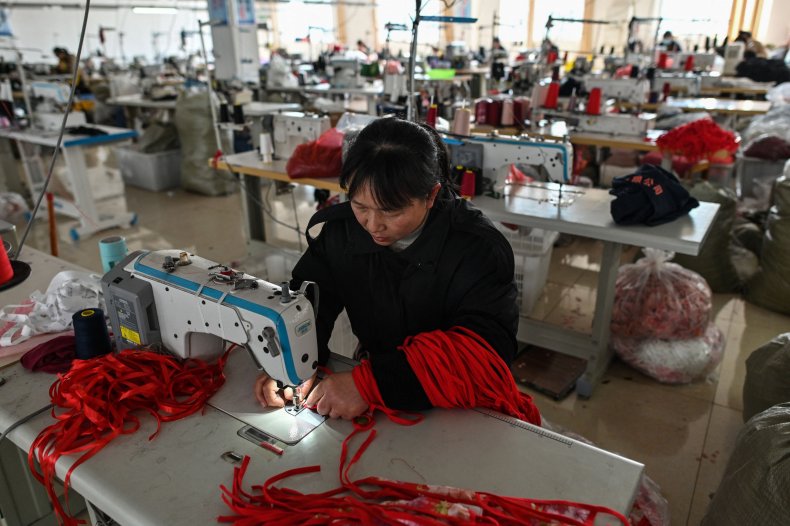 China's labor market experienced an upheaval since 2020, as millions of workers, especially migrants, found themselves jobless as factories closed down, resulting in a shift to the services industry, throwing norms and protocols of blue and white collar jobs to the winds. The Chinese Communist Party, realizing the growing discontent in the market, in June 2021, announced that it was launching nation-wide vocational skills training as well as a jobs-first policy for economic recovery. There is no data to back the success the government claims on both counts.
Under the plan, China set a December-end target "to train more than 50 million people, including migrant workers, high school graduates, furloughed workers and former soldiers, using government subsidies," according to a Bloomberg report. However, an ageing and shrinking workforce is becoming a stumbling block as older workers retire at a faster rate than youngsters can be recruited. The CCP is faced with no alternative but to scale down its plans for the economy and sharply improve skills and innovation training for the youth. A McKinsey Global Institute report found that by 2030, "220 million Chinese workers may need to transition between occupations, or 30 percent of the workforce."
The frustration of China's employed is more palpable. Employers eager for quicker economic recoveries are going in for longer working hours. That, coupled with tougher job targets and limited growth prospects, are taxing the employees. Add to that peer pressure to indulge in consumption of luxuries and skyrocketing prices make for a caustic concoction. Married couples find themselves unable to spare even a down payment for a small flat. Many of them delay plans to have children because they cannot afford to rear them.
Most employed people are diverting their frustrations into an online form of "protest" called "lying flat youth." It simply means doing the bare minimum to just exist. The motto promotes the idea of not allowing stress to affect one's physical and mental health. Scores of websites have sprung up in this regard. Social media is filled with posts by these people as they exchange information about their experiences. T-shirts with these ideas sell like hot cakes.
The South China Morning Post quoted the latest survey by microblogging site Weibo as finding that "61% of the 241,000 participants said they want to embrace the lying flat attitude." The Chinese government was forced to take note of the growing fad. It considers the popular movement as a threat to Xi Jinping's dream of national rejuvenation. Realizing the long-term effects of such a movement, the government has blocked certain social media chat groups. The depth of the government's concern can be gauged by the fact that a tabloid controlled by the Communist Party published an editorial on the topic: "China is at one of the most important stages of its long road to national rejuvenation. Young people are the hope of this country, and neither their personal situation nor the situation of this country will allow them to 'collectively lie flat.'"
A well-known academic, Gavin Sin Hin Chiu, formerly associated with Shenzhen University, had the last word when he told the SCMP: "If it becomes widespread, it will affect young people's expectations of income growth, consumption, marriage and childbirth, which will be detrimental to China's ability to avoid the middle-income trap, where growth stagnates and incomes stall."
Jianli Yang is founder and president of Citizen Power Initiatives for China and the author of For Us, the Living: A Journey to Shine the Light on Truth.
This article first appeared in Newsweek on 7/14/21